Foundation Repair Contractors
Florida Foundation Systems has a variety of piling products to accommodate your commercial projects such as; Helical piles, Push Piers, Pin Piles which required minimal access to support new or existing structures, slabs, equipment pads. These piles can support up to 20 tons design as per Geotech's recommendation. More load capacity can be achieved by using a CHANCE Micro pile (Helical pull-down pile)
Are you looking to build an addition, a second story , a new pool / deck, a privacy wall or just remodeling? Florida Foundation Systems has the solution to permanently support these on a low cost piling system with minimal disturbance to surroundings, These piles consist of:
Helical piles
Pin Pies
Resistance / Push Piers and/ or Foundation underpinning
Are you experiencing settlement issues with your foundation or floors ? If so, call Florida Foundation Systems for a free site visit and evaluation. Protect your biggest investment with the CHANCE helical or push pier underpinning system.
Causes to foundation settlement could be from a variety of things:
Poor soils (Loose or Organics)
Poor water run off (No gutters or excessive water against foundation)
Plumbing leaks or just plain bad construction practice
Visible indicators that your foundation is in need of foundation repair may include:
Cracking exterior walls
Cracking interior walls
Cracked or uneven floors
Cracked ceiling or drywall
Sticking doors and windows
Products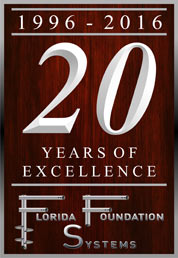 Certified Dealers For